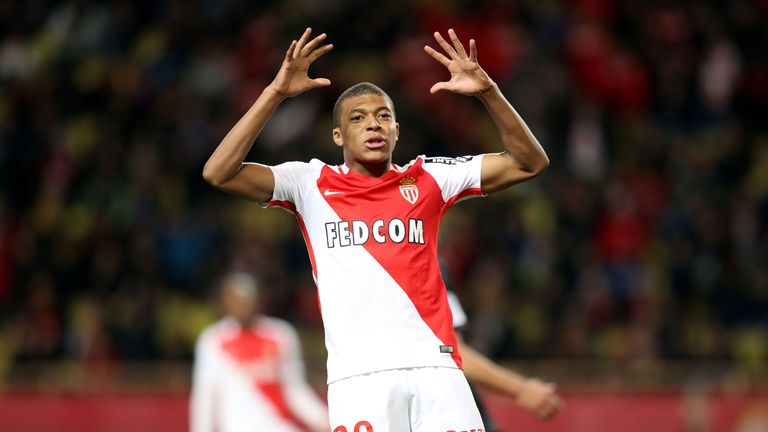 Arsenal have been linked with French teenager Kylian Mbappe, who plays for AS Monaco. He has been heralded as 'The Next Thierry Henry' and such comparisons have even lead Arsene Wenger to take notice of the explosive 18-year old forward.
Arsene Wenger mentored Henry during their time together at Monaco and later turned the French legend from an inconsistent winger to a spectacular striker. Arsene Wenger looks to be really keen on Mbappe, who has made an impression at the Stade Louis II this term.
But who is he? And will he fit in well at Arsenal, where many French youngsters have made the grade, while some haven't. Monaco would love to hold onto their young starlet, but substantial bids and the right clubs coming in for him could force their hands into selling him.
Football Background/ C.V
Born in Paris to a Cameroonian father, Wilfried, who was also a footballer, Mbappe started his career out at hometown club AS Bondy, where he impressed many before going on to have a stint at the famed Clairefontaine academy. After impressing there, he was sought by many French clubs but finally settled with AS Monaco.
He featured for Monaco's B team as well as reserve teams before finally making the first team Ligue 1 appearance in December 2015, when he replaced Fabio Coentrao for the last few minutes of a game against Caen. Mbappe was aged just 16 years and 347 days, thus breaking idol Thierry Henry's record. In February 2016, he scored a goal against Troyes, in a home league win. While doing so, at 17 years and 47 days, he became Monaco's youngest goal-scorer, also beating Thierry Henry's record in the process.
A month later, Mbappe signed his first professional contract with AS Monaco tying him down to the club until 2019. And also putting off his suitors' interest, at least for the time being. He capped a fine debut season with Monaco with more exploits for the France under-19 team at the 2016 UEFA European  U-19 Championship.
This season has been a major one for Mbappe so far. He has featured quite a lot, playing 19 games in all and scoring 7 goals. In the league alone, he has 3 goals and 6 assists. A remarkable record for a budding wide forward that still has some physical and mental growing to do.
Style of Play/ Strengths and weaknesses
Just like his idol Thierry Henry, Mbappe's primary position is on the left-hand side of attack. He also favours this position as his favourite player Cristiano Ronaldo also plays in a similar role. Mbappe has loads of pace to burn and astute dribbling ability along with intricate footwork; all qualities that will help him go a long way in his career.
Along with these attributes, he also has the ability to get into good goal-scoring positions, something we have seen in the season so far. This ability also makes him favourite to end his career as a striker, but as it is seen in the majority of the situations, young budding strikers are never entrusted with playing up front by themselves. Kylian will have to wait his turn to play as a lone striker and should look to focus on continuing to make a good impact as a withdrawn/wide forward.
Where will he fit in
As previously mentioned, Mbappe is more than comfortable playing in a wide role or up front and this versatility could help any of his suitors. Arsenal, in particular, could benefit hugely with his signing as it would give Wenger the opportunity to nourish and polish another stone into a diamond.
Mbappe will undoubtedly find it tough going at first if he makes the move. His former AS Monaco teammate, Martial, will certainly know a thing or two about adapting to the Premier League and if Martial's Old Trafford journey is anything to go by, Mbappe would be better off staying at Monaco for a reasonable time and gain valuable experience before moving on to another club, where he can further his progress accordingly.