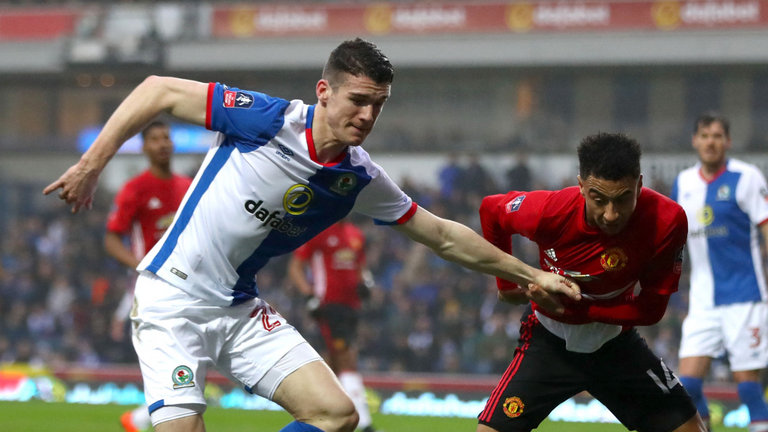 Why Sheffield United Should Go All Out To Sign Blackburn's Darragh Lenihan
Blackburn Rovers' 23-year-old midfielder Darragh Lenihan has become a subject of another bid of £1.25m from Sheffield United in recent days and the Blades seem determined to get their man.
The Irishman has been at the Lancashire club for some time now but made a real breakthrough last season during the club's unfortunate relegation year when putting in 40 league appearances. Having reached that level he would be wise to keep his momentum going and so with the two clubs in question having swapped divisions, the player himself may yet push for a move.
In his 40 Championship games last term (32 starts); Lenihan didn't manage any goals or assists but was otherwise very solid. His pass completion rate of 70% represented a step up and it's something he in fact has shown to be improving every season so far in his career.
His relentless record of 1.2 tackles, 2 interceptions, 0.9 blocks and a massive 5.2 clearances per game showed off his battling and defensive skills, while the side around him struggle to keep their club in the league. At this stage of his career as a midfielder, these stats can only improve too.
When playing 23 times for Rovers in the Championship in 2015/16, Lenihan was fouled an average of 0.5 times per game. That figure rose to 1.1 times per game last term and is a testament to his improving ability to keep possession of the ball and frustrate the opponents.
Once more, this is an area he will get even better at but in terms of practical on-the-job training, his skills are less likely to be honed to the desired level down in League One.
For their part, Sheffield United know they are looking very deficient in the midfield area since promotion both in terms of quality and in terms of numbers. Chris Basham, John Fleck, John Lundstram, Paul Coutts and Samir Carruthers can all be described as central midfield players of one type or another, but given the formations the Blades use, this simply isn't enough.
More is required and the quality needs to be increased in more ways than one. Allowing current squad members; who of course helped the club to an excellent title winning promotion from League One, to improve at this level is one way to do it but that improvement upped in class is never guaranteed.
Sometimes you need to bring in a player who is proven at that level and this is what Sheffield United see in Lenihan.  Unfortunately for Rovers, a deal does look imminent.