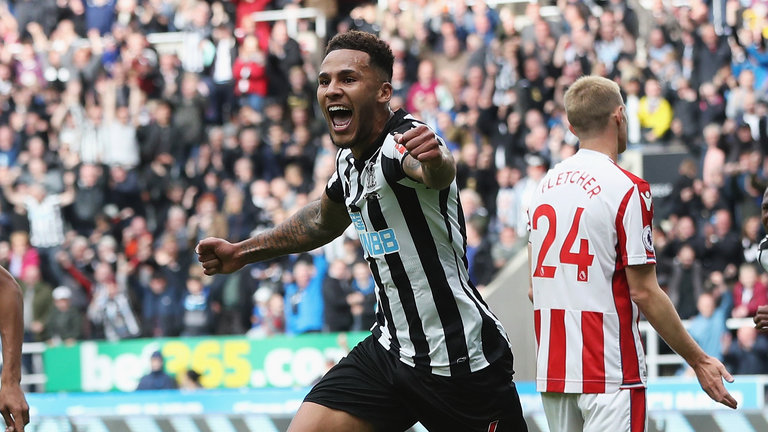 Newcastle's Jamaal Lascelles Totally Desrves An England Call-up And Here's Why
From perceived liability to a crowd hero, Jamaal Lascelles is now one of Rafa Benitez's go-to people in the Newcastle squad and indeed the club captain is now pushing to be included in Gareth Southgate's World Cup 2018 squad.
Since very publicly bemoaning his more experienced teammates such as Moussa Sissoko and Daryl Janmaat during Newcastle's relegation season, Lascelles has won favour with Rafa due to his determination, outspoken nature and willingness to put his own reputation on the line.
Out of nowhere, the centre-back has become the most popular Newcastle captain since Alan Shearer and looks set for a long spell with the arm band in black and white helping hopefully to lead the Toon to some long awaited trophies.
Could, or indeed should Lascelles get into the England squad though? As always, a lot depends on injuries but using the latest squad as an example, he can probably count himself unlucky. A fully fit and well John Stones and Gary Cahill certainly make the list before him, but without being blinded by transfer fees, he will feel he is in a better place right now than Harry Maguire or Michael Keane.
Phil Jones has never been my idea of a top class centre half either, so it would appear he is bang in there with a chance, as long as Southgate remembers that England does not stop at Manchester.
Lascelles is the 7th best English centre-back for blocks, 5th best for clearances and 9th for tackles and bearing in mind that most of the players above him are in the lower reaches of the league, i.e. being in a position where they have to defend more, his stats back up his claims.
His is overall rating of 7.02 on Whoscored also makes him the 5th best English centre-back in the country right now and, although those ratings are far from reliable, they along with his other stats certainly don't back up the fact that there are at least seven players ahead of him at present, if we include the aforementioned players plus Ben Gibson and Chris Smalling.
We have to bear in mind here that Lascelles, still just 23 years old, is shouldering the burden of captaining a massive club and without that, he would probably be a few percent better in terms of his actual playing ability.
For me, as a close watcher of Lascelles, he'd be in the English squad right behind Stones and Cahill.