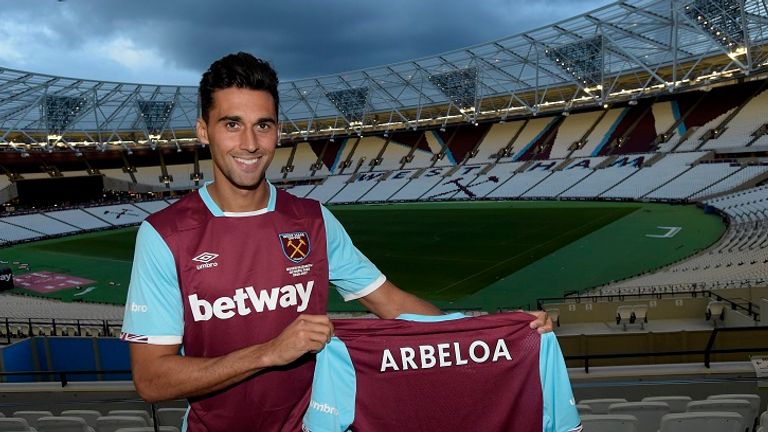 Not many would've switched Real Madrid for West Ham, but that didn't stop Alvaro Arbeloa from making the move to The Olympic Stadium in the summer. The Spaniard has had a merry-go-round career of sorts, as he started out his professional career at Real Madrid, before moving to Deportivo La Coruna and then Liverpool, where he had decent success under compatriot Rafa Benitez.
He then moved back to Real Madrid and served them for a few years, before eventually becoming a fringe player at the Santiago Bernabeu. Despite being a fringe player, Arbeloa was a small part of Real Madrid's recent successes along with also earning close to 56 caps for Spain. Last summer, Bilic came calling for Arbeloa's services and the Spaniard duly obliged.
But it has been far from the ideal twilight period in his career that he might've thought it would have been. He has found first team appearances very hard to come by and has featured only thrice in the league and 4 times in all competitions, which will worry Arbeloa, to say the least.
But at 34, he might not have too long to go and Bilic should look to let go of him in the summer as The Hammers are in need of young blood that can take them to the next level. Here are 3 reasons why Arbeloa should be allowed to leave West Ham in the near future as Bilic will look to shake up his under-performing squad –
He doesn't give much in an attacking sense
For all his versatility, Arbeloa is much more of a defensive full back than an attacking one and this doesn't play into the Hammer's style of play, where there is a need for plenty of overlapping runs and crosses due to the presence of a certain Andy Carroll. Arbeloa has perhaps found it tough going in England due to this very fact as he has been bang-average whenever played.
At 34, his legs aren't as agile as they were
What he lacked in attacking sense, Arbeloa always used to make up for it with an astute reading of the game and good positional sense, but all that is possible when you're fit to a certain extent. Having been a fringe player towards the end of his Real Madrid bow, he certainly did not appear at West Ham in a fit state and that showed.
West Ham are in need of young players in the wide positions
West Ham are a side that play with good width and this means that they need energetic players who are willing to run throughout the game. Arbeloa's legs perhaps won't let him do that and West Ham would be better served by letting their summer acquisition leave in favour of a young player or someone like Sam Byram, who has failed to make the grade since moving from Leeds United.